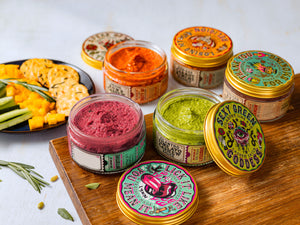 PARTY & COOK LIKE A ROCKSTAR
FIVE HANDCRAFTED SIZZLIN' BANGIN' FLAVOURS
WHY LOADED GUN?
All of our key ingredients are homemade. Kombucha, roasted red peppers, caramelised onions, roasted beetroot, curry pastes... We try to minimise the use of processed ingredients where possible. Using techniques like fermentation, roasting, grilling, we bring out maximum flavour in vegetables, straight from our hands to our badass jars.
WHO ARE OUR PRODUCTS FOR?
Loaded Gun helps time-strapped mamas feed their kids the best foods, work-from-home warriors get snacky in the healthiest way possible.

Feeling peckish before a yoga class? Our dips are the perfect pre-workout booster when paired with vegetable sticks or toast.

If you love playing hostess with the mostess, our dips help jazz up your dining table --- ready-to-eat, multi-functional jars of heaven 🕊
"If it was grown on a plant, not made in a plant, then you can keep it in your kitchen"
Look Ma, we're in the news 📰
Yes, and no. It depends on how strict you are about adhering to these diets. Yes because, our products contain 100% whole foods, which ticks the boxes for both diets. However, you may choose to refrain from consuming our products as they all contain some form of natural sweeteners (none of which are artificial and which are all naturally derived).
No. Our products are designed to increase your confidence in the kitchen and help you create fuss-free, simple meals and snacks in less than 15 minutes.
All of our key ingredients.For example, our plant-powered Kimchi (Yes! No fish sauce! No shrimp!) is used in our Kick-Ass Carrot Kimchi Hummus. Our Kimchi is homemade, brewed with the most warming of vegetable broths (this is homemade as well).Our Kombucha BBQ Pinto Bean contains home-brewed Kombucha, naturally cultivated with organic black tea & cane sugar. Fermentation takes 13 days, and no two brews are exactly the same, lending a unique flavour to every batch of BBQ. Umami Bomb Cashew Cream contains roasted red capsicums and caramelised onions. Bitchin', right?? We think so too.
It can last at room tempature for about 3 hours. Avoid direct sunlight. Preferably, you should refrigerate it as soon as you receive it.Why? It contains no preservatives and is made from the freshest ingredients - this is what makes it so damn delicious!
We deliver twice a month and orders open for 2 days with an announcement via IG or email. If you don't have IG, don't fret. Subscribe to our mailing list below.